Introduction to the Online Food Supply Chain
Introduction
India is a land of cultivation various varieties of food are cultivated in different seasons. The branch food technology has not only guided food processing and manufacturing but also now refers to application of food delivery and supply chain. Various applications and websites have been developed for managing the supply of food to the customers. Online food delivery app assists individual to order and receive desired food at their door steps. It involves browsing websites or application to select from a wide variety of cuisine available and paying according to customer concern either by online or COD mode.
What is online food supply chain?
Distribution of raw materials or food production to the consumer in required amount of time can be characterized as food supply chain. From the perspective of supply chain management, the food industry is tough area to navigate. It requires advance control systems capable of dealing with perishable products.
The top leading online food delivering companies in India are
Zomato
Swiggy
Foodpanda
Bundl technologies
Fassos
Dominos and many more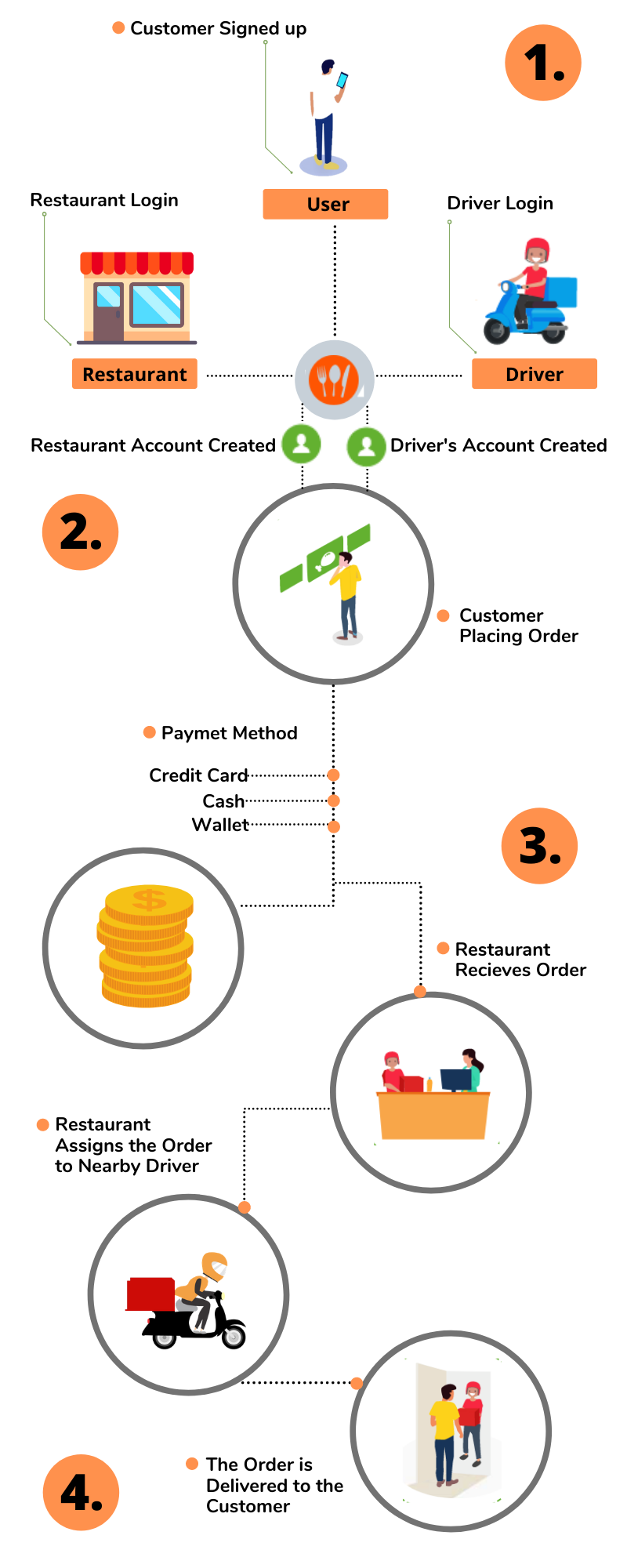 Today's emerging online food delivering companies are transforming the simple food supply chain to become more consumers demanded and systematic. In last few years there has been increase in the number of Indian households eating out. The rate of eating food from outside other than home has increased in last two decades. But now we are seeing the trend getting reversed from "eating food outside" to" eating outside food in the house "
Impact of online food delivery
Ordering food is now as simple as clicking a button. Menus are listed on the website/app and can be ordered without any pronunciation stress, food delivery has become a quick and easy service. Following are the impacts of food delivery according to three pillars of sustainability framework.
Economic Impact
Rise in job opportunities
Less job satisfaction
Traditional restaurants suffer
Social Impact
Choices of delicacies in human increasing
Transformation in urban life
Difficulties to public health
Environmental impact
Plastic waste
Food waste
Increase carbon footprints
Problems faced by food delivering companies
Peak period volumes of delivery
There is observed typical rise in orders during weekend or holidays accompanied by large drop in orders in first few days of week. Food deliveries order has increased significantly since lockdown were imposed. Restaurants tend to fail to cope up with such high volumes of order and end up disheartening the customers.
Keeping food quality and safety
Travelling often might degrade food quality and might disturb food quality, not every dish travels as same as tastes in restaurant, which is why maintaining ideal food quality of food during transportation is massive risk in food service industry. Another com on issue is that the food is not messed up by the delivery personnel.
The online food delivery supply chain is driven by dynamic demands that must be met in very short period of time. The major source of concern of food delivery companies is insufficient on ground resource and ineffectiveness in in resource management. The problem rise especially during pandemic where the manpower was low, allocating task and effectively managing vehicles was difficult to manage.
Restaurant logistic difficulties
Delivering food is all about freshness and time. Traditional logistic system are insufficient for planning delivery routes, arriving at accurate ETA's and taking into consideration about traffic and the distance between restaurant and customer location. The in ability to monitor lack of on ground delivery operation is also hindered by lack of supply chain visibility.
Conclusion
It is to conclude the ordering food online is a feasible alternative. The key reason for ordering food is online is time efficiency. Majority of the youth prefer to order food online instead of going for lunch or dinner. Nowadays digital payment platforms are developed, so people are more comfortable with it. Food industry is developing enormously therefore the online food delivery business is also bright, things should be done in order to guarantee the sector develop in sustainable manner that meets the interest of all stakeholders involved.
Read our latest article on: The Winemaking Process
References
https://www.mdpi.com/2071-1050/12/14/5528/pdf
https://www.googleadservices.com/pagead/aclk?sa=L&ai=DChcSEwj92o6yrv31AhX3mWYCHRX9D4oYABACGgJzbQ&ohost=www.google.com&cid=CAESWuD22lniiipg7es_bv7zkBYm2QgtGKV4I6YJXXmdZg7_Xj0spgduegfJu6RB8Cq9UmgXetNHqd8BptdW_u3530rNhfKWcWzVFXEyIzMVN7bJiPjAFeYpTzi1Yg&sig=AOD64_2bZHlgsU7lPpDxAuZLrJPaYMdGcQ&q&adurl&ved=2ahUKEwiauIiyrv31AhWXUGwGHZkbASgQ0Qx6BAgDEAE
https://web.iima.ac.in/assets/upload/mdp/1037317612Food%20Supply%20Chain%20Mgt.pdf
https://theaims.ac.in/resources/online-food-service-in-india-an-analysis.html
https://www.iimb.ac.in/scmcblog/how-zomatoisation-will-impact-indian-food-supply-chain/
https://www.researchandmarkets.com/reports/5522542/online-food-delivery-market-in-india-2021
https://www.googleadservices.com/pagead/aclk?sa=L&ai=DChcSEwi66oe7r_31AhWSNSsKHQDNACMYABABGgJzZg&ae=2&ohost=www.google.com&cid=CAESWuD259MOG1eW3eTy9qgx_SNNI6BAte10-CTK3wNqqBmTuQdiGU4isAiiz86VEVCXzRdb77P0BlaEQKzDJ3lnBDUJxYpR5_-uW9aBf5vPyRRgg2hqs1tvpi-TQ&sig=AOD64_247pD1kPHPUfZCszVZkrKlhsKchw&q&adurl&ved=2ahUKEwjDuYC7r_31AhVWSGwGHYPQAPsQ0Qx6BAgDEAE
https://www.csa.iisc.ac.in/~nv/14Chap1-FoodBasket.pdf
https://underscore.factor75.com/the-history-evolution-of-food-delivery/